Here is a mix I cooked up around the theme of ROBOTS!
Standard 8track disclaimer: Due to weird copyrighty things, you can only listen to the mix in its intended order once. So basically, if you're going to listen to it, you better sit down and listen to it all the way through or you won't get the full (sexy)
experience
.
Running Time: aprox. 1 hour
Track List:
01. Daft Punk - Technologic
02. Tullycraft - Building the Robot
03. Modest Mouse - Perpetual Motion Machine
04. Pixies - Bone Machine
05. The Thermals - My Little Machine
06. Nada Surf - Robot
07. Robyn - Robotboy
08. The Dresden Dolls - Coin Operated Boy
09. Fionna Apple - Extraordinary Machine
10. Yeah Yeah Yeahs - Machine
11. Stars - Sad Robot
12. Robyn - Fembot*
13. Daft Punk - Robot Rock
14. Caribou - Subotnick
15. The Flaming Lips - Yoshimi Battles The Pink Robots
16. The Flight of the Conchords - Robots
17. Justin Versnon + Aaron Dessner - Big Red Machine
18. Andrew Bird - Not a Robot, But a Ghost
*Indicates Track Pick
Truth be told I build this mix around the Robyn song (three words: automatic booty applications). I was actually a huge Robyn fan back in ...'97ish when she came out with her first CD. Her newest albums Bodyrock parts 1 and 2 are completely stellar pieces of pop. My new fantasy is a collaboration between Robyn and Lady Gaga.
There was also a time, back in my educational years, when the term "post-human" was thrown quite liberally around my post-modern English class. Annoying, yes, but certainly thought provoking...it's a future I don't think we're too far from.
Don't watch the movie
A.I.
unless you want to be deeply disturbed.
I suppose that's all I have to say about robots...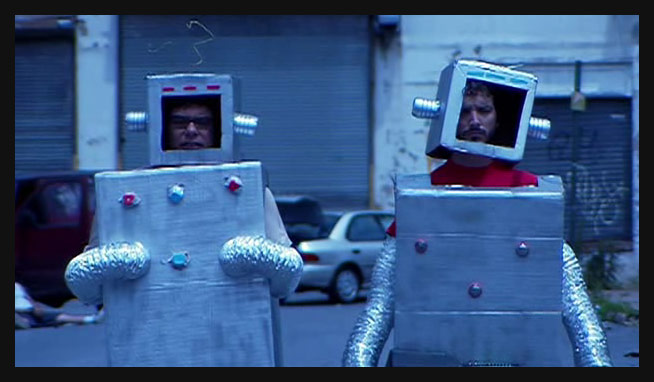 ...the distant future.